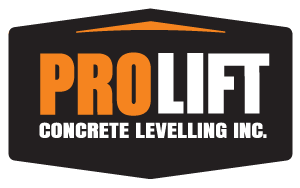 Concrete Levelling Edmonton | We lift sinking concrete

Concrete Levelling Edmonton | Call today for a free estimate and SAVE $200* on services booked by August 31st.
(Terms and Conditions Apply. Contact us for details.)
Concrete Levelling Edmonton | Services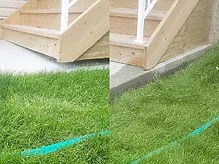 Concrete Levelling Edmonton | Concrete Lifting & Levelling
a safe and cost-effective method of leveling misaligned concrete slabs. It's by far the most cost-effective way to raise and repair concrete driveway slabs, concrete sidewalk slabs, concrete pool deck slabs, concrete patio slabs. Any sunken concrete slab can be raised. Call for a free concrete raising estimate.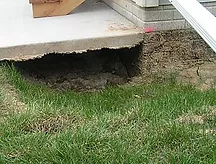 Concrete Levelling Edmonton | Void Filling
Voids are created under the concrete slab by the shifting of the soil or by a reduction of soil volume. The concrete may not be sufficiently strong enough to hold the load, causing the stressed concrete slab to crack, break, and eventually settle to fill the void. When concrete settles, it can cause serious damage to the structures they support.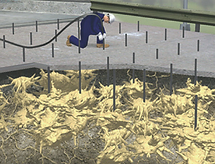 Concrete Levelling Edmonton | Soil Stabilization
Over time, the soil may become eroded and loose, creating an unstable foundation for structures. Gaps are created and sinkholes may develop. We have the tools and materials to fill in voids and consolidate the soil by permeating it leaving the soil compact and stable.
Concrete Levelling Edmonton | ABOUT
We believe in quality work, integrity, and respect for both our new and repeat customers, clients, and employees. We promote excellent knowledge and have top experience for 8+ years. Our services expand throughout the entire province of Alberta. We provide quality jobs in the industry such as polyurethane concrete leveling/lifting which is cost-effective, fast, clean, and efficient for both residential and commercial applications. 
Our mission is to provide excellent work for our customers which will, in the end, save them thousands of dollars in costly repairs, downtime, and disruption, rather than redoing the project themselves. Our focus is to help our clients leave the job up to us to fix those concrete concerns.
We are dedicated to training and quality.
Our professionally trained contractors can install our reliable Poly-urethane foam. The strength of independent dealerships spanning coast to coast results in research and best practices in concrete lifting.  You can rest assured that you will get a quality, safe, long-term solution for your concrete leveling needs.
We are just a free call and quote away from making your concrete concerns stabilized again!
Watch our lifting process
What is Mudjacking & Why Foam is a Better Option
If you are considering repairing your sunken concrete you may be wondering what exactly is mudjacking and if there are other better methods available.
Mudjacking is not new. This technique used to lift and level sunken concrete slabs has been around for over 70 years.
The mudjacking process works by pumping a slurry (typically comprised of a mixture of sand, cement and/or soil) below a slab through holes at the surface. The hydraulic pressure from the mudjacking machine causes the slab to rise.
​Mudjacking works however this repair process is not without its problems. Below I explain three main issues with mudjacking that property owners need to be aware of before selecting a repair solution and why the use of polyurethane foam is now the preferred method for lifting concrete.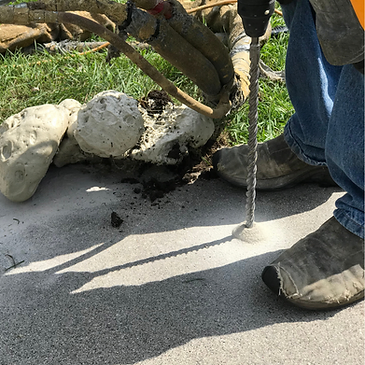 Polyurethane the Mud Jacking Alternative
The use of polyurethane has become more and more popular since its patent expired in the early 2000s and it became available for widespread use. 
This method was originally used to fill sunken roadways, but it can now be used in several raising areas.
It cures and hardens in far less time than mud jacking slurry, and is often the more feasible material for areas like driveways and walkways.
It's the preferred method throughout the industry.
For more on mud jacking and suitable alternatives, or to learn about any of our concrete raising and levelling services, speak to the pros at Prolift Concrete today!