Edmonton Concrete Levelling | We Fill voids

Edmonton Concrete Levelling | Void filling
Edmonton Concrete Levelling | When concrete settles, it can cause serious damage to the structures they support. In most cases, concrete settlement can be traced to the dehydration and shrinking of the soil under the concrete, water erosion, poorly compacted subgrade and the washout of soil. In each situation, a void is created under the concrete slab by the shifting of the soil or by a reduction of soil volume. The concrete may not be sufficiently strong enough to hold the load, causing the stressed concrete slab to crack, break, and eventually settle to fill the void.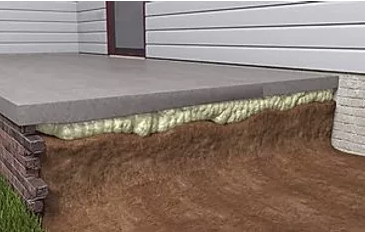 Edmonton Concrete Levelling | ProLift Process
1. First, a series of 5/8″ holes are drilled in an off-set pattern.
 2. A two-part resin-based specialized poly-urethane foam is injected into each drilled hole leaving time for the foam to expand, making sure to fill all voids until the concrete is then lifted back to original height. 
3. Once the concrete is preserved, existing voids are perfectly filled and the concrete panel is completely supported and undersealed. The solid, dense polyurethane foam material is unaffected by water eliminating future water issues after work is performed and is complete concrete may be used immediately. The holes are then filled with high-density cement grout and finished to match the existing concrete.

Edmonton Concrete Levelling | Common Causes of Settlement
Dehydrated Soil Beneath A Slab

Poorly Compacted subgrade

Soil Washout — Plumbing Leaks

Water erosion (drains, sub pumps, etc)

Animals and pests
Very low viscosity.

Water impermeable polyurethane foam

Cures as fast as 15 seconds.

Small 5/8′ holes, versus traditional 2 and 1/2″ mud jacking holes

Light weight foam, over most other materials that are heavy and water based and can shrink over time.

Poly-urethane foam is strong, supporting over 50,000 pounds per square foot

Much more cost effective than a complete concrete replacement

Poly-urethane cures quickly, allowing you to walk on the surface within seconds

Unlike other products, poly-urethane will not break down over time

Most void fills take up to an hour with PROLIFT